Welcome to the b3tapix hosting service.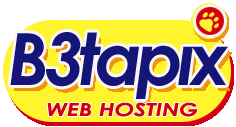 I think I am offering the cheapest hosting plans around, speaking of full-fledged plans complete with PHP, Perl, Mysql, CPanel, tons of easily installable scripts to do blogs, image galleries, shopping carts etc..
(Do you know someone that beats my offer? Let me know, and I will write it here!)
Give a look at my hosting plans. Try the demo. Try my myhosting for real, and pay me after a week, only if you are satisfied. Can you ask for more?
What's this"Unprofessional" thing? How reliable are your hosting services?
By Unprofessional, I mean that my job is something else (I am a programmer, btw).
This does not mean my hosting services are poor: my server is set up and mantained with an extremely professional hosting company and so I enjoy their reliability.